June is here and there's LOTS HAPPENING in Bailey and SAPC!! 
First of all, a reminder that the Kitchen Herb Garden Class is June 4 from 1-2:30 at the Bailey Center.  Learn to plant kitchen herbs with CSU master Gardeners.  Please  register  at https://bit.ly/KitchenHerb
Mountain Resource Center  Food Truck coming to the Bailey Center Parking Lot every Wed., 2-3:30 PM, EXCEPT JUNE 8. 
Please see the attached flyer for details.  You will need to fill out a form the first time you receive food from the Food Truck.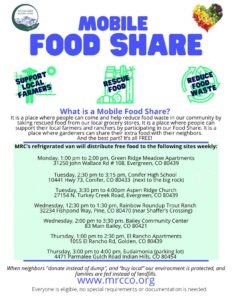 There are no more FEMA Boxes. They were given out during the early days of COVID.
Also, The FOOT CLINIC will no longer be available due to a scheduling issue.  BUT, Rocky Mt. Rural Health will be at the Bailey Center on Wednesday June 15 at 10:30 during Morning PERK-UP.  Checks will include blood pressure, pulse and O2 levels, and blood sugar levels, as well as information on Advanced Directives.
And of course, It's time for BAILEY DAYS , June 25 and June 26.  Visit our booth on Main Street!
Please see Calendar for Time and Location Changes for our Monthly Meetings!